Event Lighting Hire to Keep Audiences Engaged but won't Break the Budget
09 November, 2016 By admin
Event lighting hire is an important aspect of putting together an outstanding conference, function or product launch. By utilising the right lights for your conditions you can focus an audience's attention or create dramatic changes in ambience. When hiring stage lighting for your Sydney event, it's important to keep in mind the effect you want to achieve. Inhouse Audiovisual is able to tailor a package which suits your budget, with comprehensive services Australia-wide.
A frensel light is a standard essential for your lighting needs as it casts even illumination across a wide area, providing a soft flattering light. When paired together frensel lights blend seamlessly to illuminate a subject.
Follow spots are perfect for any variety night or gala performance. They are manually controlled lights which pivot or track a performer on stage, and have a wide range, providing light from corner to corner of stage. Follow spots can be used creatively to direct an audience's focus where you want it, and can provide an austere effect when used for musical and theatrical performances, or any time when a performer will be utilising the full length of the stage. Inhouse Audiovisual can also provide operators for follow spot lights, ensuring a high quality result.
When you want to provide ambient and atmospheric light, consider the use of LED and gobo lighting options. LED multi par lights are available in a full spectrum of colours and a range of programing options. Use a static, single colour option to provide dramatic uplighting, or get creative with a range of scintillating colours, perfect for a dance floor or concert. Gobo projection adds another dimension to traditional mood lighting, projecting customised images onto large scale areas such as walls or ceilings. Gobos give you the option to display your company's logo or personal message, and like LED lights, they have a full range of colour options.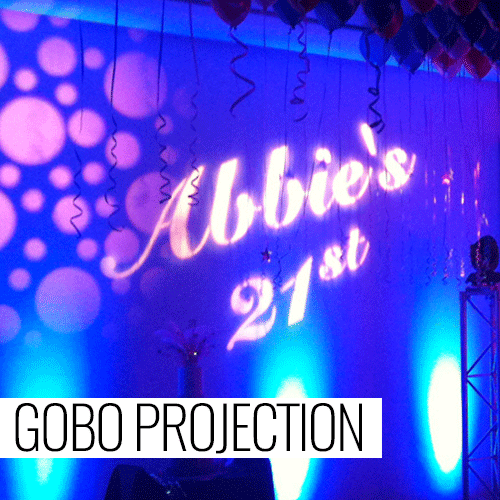 When you want a light which can work overtime it's worth the investment of hiring a moving head light. While they are more expensive than other lighting options, moving head lights perform several functions: They can provide the even, standard lighting of a frensel or follow spot, and also the atmospheric lighting conditions of LED lights.
Inhouse Audiovisual's moving head lights also come with a series of fixed and rotating gobos, giving you even more creative lighting options.Whether your event is big or small, Inhouse Audiovisual has the tools to put together the best lighting package for your needs. We provide same day event lighting hire anywhere in Australia. Consult with us today.