Extravagant lighting hire for gala dinners or awards nights
09 November, 2016 By Admin
Event lighting hire is an important feature of any gala dinner or awards night. When you need responsive, dynamic lighting options, look no further than Inhouse Audiovisual. We deliver exemplary service, with over ten years of industry insight we're able to recommend the very best options to suit your event needs. We offer event lighting in Sydney, lighting hire in Brisbane, and all Australia-wide! It's important to have a budget in mind when booking lighting; with so many options available to you prices can vary immensely.
When you really want to make a statement at your gala night, it's well worth the investment to hire a moving head light. This light offers you a range of programmable lighting options- full coverage wash lighting can illuminate speakers or follow award recipients on stage, removing the need for a standard frensel or follow spot light. When it's time for live performances, a moving head light can provide ambient and atmospheric lighting conditions to complement the on-stage action. The light can cycle through a full spectrum of colours thanks to its CMY colour mixing system, allowing for creative split-colour combinations. Want even more variety? A moving head can add intricate wash and profile patterns to your stage lighting hire through the use of fixed and rotating gobos.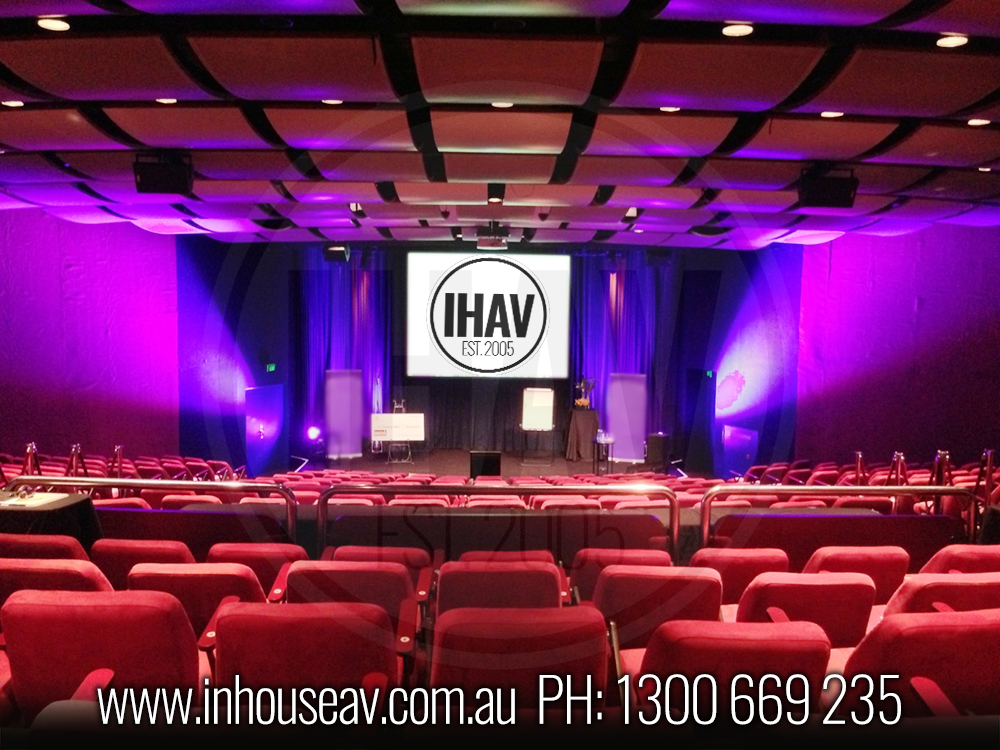 Perhaps you have a product launch coming up and you want to reinforce brand identity? Inhouse Audiovisual can cater for your corporate event lighting needs as well! Spotlight your product with crisp light from one of our source four zoom profile lights. The crisp, demarcated edge will draw audience's eyes straight to your product, providing a professional finish. For atmospheric lighting, consider commissioning your own personalised gobos. Inhouse Audiovisual can make gobo templates to order in any shape or font; a perfect opportunity to creatively convey your company's logo or slogan.
Of course, you can create dramatic lighting on any budget, and LED multi par lights are an effective way to light a room without breaking the budget. Just like moving heads, these lights are available with a range of colour and programming options, but LED lights are most effective when used for uplighting, as demonstrated at recent event at the Sofitel, Melbourne. Our client opted for dramatic purple uplights which cast a distinct beam of colour. LED uplights look visually striking when paired with our black velvet drape, adding a professional feel to your award night.
Contact us for your next Sydney stage lighting to make your event shine!