Creating Brand Awareness with Gobo Lights
09 November, 2016 By Admin
When you want to make an impact, gobo lights are a great way to elevate any corporate event lighting. Projecting customised images onto large screens and walls, gobo lights have the ability to transform a space. For event lighting hire in Brisbane an Inhouse Audiovisual client opted to add visual interest to the walls of the QT Ballroom. They contacted us to wallpaper the otherwise blank walls of the venue with an array of round abstract gobo lights in lavender, complementing their stage lighting hire of purple LED uplights.
Gobos give you the ability to illuminate a space with your company logo, personalised text or image. For this reason they are a popular choice for corporate events, gala dinners and awards nights. While we offer same-day delivery for standard packages, gobo templates are made to order and take approximately five days to complete. Please let us know of your gobo requirements in advance to ensure your event lighting hire reaches you on time. Inhouse Audovisual is proud to offer Australia-wide service on a comprehensive range of products. Whether you need event lighting hire in Sydney or stage hire in Perth, Inhouse Audiovisual delivers great service, with packages to suit all budgets. We're the best choice for concerts, galas and roadshows.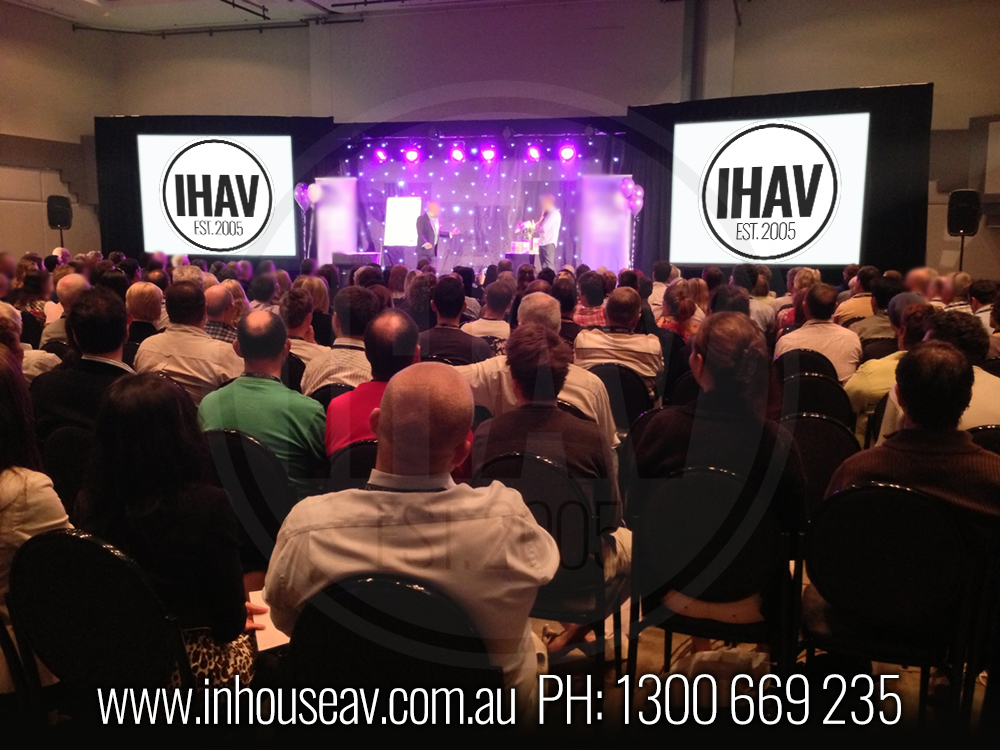 Gobos are housed within moving head lights, which means you have an array of captivating lighting effects at your disposal. When you book this stage lighting with Inhouse Audiovisual, you can be sure you're receiving the highest quality products at the best price. We use the MAC 700 Moving Head model which features a full CMY colour mixing system and 8-position colour wheel, allowing you to project gobos in any colour of the rainbow. Additionally, this model features its own fixed and rotating gobos, and an iris and zoom system, so you have even more lighting effects to play with!
When you need an all-inclusive lighting package, Inhouse Audiovisual can deliver. Our comprehensive stage lighting wash package features the use of a dimmer pack, two profile lights and accompanying heavy duty lighting stands. This package is perfect for company events with multiple presenters onstage.

Contact Inhouse Audiovisual today and help us put together the right package for your needs